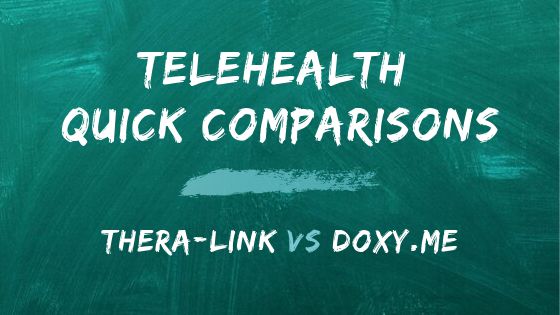 We get that in today's world, finding the right purchase for your needs is often exhausting and overwhelming. The power of the Internet can be both a blessing and a curse, as we attempt to filter through the excess of information without becoming trapped by indecision and analysis paralysis. Tack on the confusion that comes with a plethora of very similar companies (all with very differing pricing structures) and often our hours of research only return more questions than answers.
We've been there…
That's why we've made quick competitor comparisons to provide you the necessary information to find your telehealth fit. The top telehealth options, broken down by key features and relative cost – the first places you look when searching for your future platform.
What are we Comparing?
Plans:
thera-LINK's practiceLINK plan
doxy.me's Clinic plan
Features:
Video Quality
Group Session Option
Technical Support
Proof of Signed BAA for HIPAA Compliance
Integrated EHR Features

Scheduling
Secure Messaging
Client Portal
Client and Session Notes
Client Payment
File Sharing
Screenshare

Extras

Waiting Room
Marketing Assistance

Cost
Alright so –
---
1. Video Quality
thera-LINK: HD Video that auto detects and adjusts bandwidth between participants to produce the highest possible video quality for each session. Multiple viewing layout configuration options available.
doxy.me: Self-select video quality option from HD, SD, or LD at the start of your session. This manual selection will not auto adjust to distribute participants available bandwidth.
2. Group Session Option
thera-LINK: Yes
doxy.me: Yes
3. Technical Support
thera-LINK:
Phone Support: 24x7x365 phone support
Email and Chat Support: 7 days a week during normal waking hours
doxy.me:
Phone Support: Via a scheduled call
Email and Chat Support: Available 9am to 7pm EST M-F with varying availability during nights and weekends
4. Proof of signed BAA for HIPAA compliance
thera-LINK: Yes
doxy.me: Yes
5. Integrated EHR features
Scheduling
thera-LINK: Yes
*Full service scheduling for online and in-office sessions with automated appointment reminders. Client self-scheduling option available for personal website integration.
doxy.me: No
*Refers customers to third-party scheduling solutions.
Secure Messaging
thera-LINK: Yes
*Encrypted communication via the thera-LINK application with email notifications for unread in-app messages.
doxy.me: No
*doxy.me does not have secure messaging but both thera-LINK and doxy.me have in session chat, which unlike secure messaging, is restricted to communication within the session and disappears at the conclusion of the session.
Client Portal
thera-LINK: Yes
*The client portal offers clients a place to login and access select information, including payment information to adjust credit cards, upload documents or see their upcoming appointments.
doxy.me: No
*When Clients login they are immediately asked to check-in and are then are entered into the waiting room prior to their entrance into the session. There is no separate portal for the client to log into.
Client and Session Notes
thera-LINK: Yes
doxy.me: No
Client Payment
thera-LINK: Yes
*You have the ability to store default payment amounts and may request payment from your clients at any time without restriction.
doxy.me: Yes
*Requires payment request occur while client is in either the waiting room or in session.
*Both thera-LINK and Doxy.me utilize Stripe for credit card processing which collects 2.95% + $.30 per transaction.
File Sharing
thera-LINK: Yes
doxy.me: Yes
*doxy.me requires files to be shared during session ("live-share files")
Screensharing
thera-LINK: Yes
doxy.me: Yes
6. Extras
Waiting Room
thera-LINK: Yes
*thera-LINK was the original teletherapy platform to design the waiting room feature, a core component of the platform from inception. Waiting rooms can be customized with select images and include a music selection.
doxy.me: Yes
*doxy.me does include a basic waiting room to host clients before they enter a session, however it does not include music or customizable options.
Marketing Assistance
thera-LINK: Yes
*Pre-made marketing materials are available to download for free. thera-LINK also has an online directory of providers that serves as an online yellow page for patients to find a therapist. thera-LINK spends a dedicated portion of their marketing budget to advertising the directory. This budget is used in Google Ads to promote our providers and help benefit their listing's SEO ranking. In addition, each month, a highly engaged provider is selected to be the 'Provider of the Month' and this provider is promoted across all social channels and hosted on the Fireside Chat blog.
doxy.me: Yes
*Marketing materials are included as a part of this plan (specifications not listed on website).
7. Cost
thera-LINK: $65.00/ month per provider
doxy.me: $50.00/ month per provider
*both thera-LINK and doxy.me have addition plans available, these plans were selected based on consumer FAQs and proximity in tier placement and relation to both included features and price range.
We know choosing the right HIPAA compliant telehealth platform is similar to finding the right client therapist match – it's important to find the right fit and forcing the wrong one doesn't benefit either party.
So, ask and we'll answer. Try, test and explore our services, with us in a demo or without us during a trial. And know that, regardless of which company you choose, we are truly grateful for the work you do and it's our belief in that work that has lead us here, searching for ways to best support you. Because at the end of the day, the most important fact remains: #MentalHealthMatters #ConnectionMatters .
---
If you'd like a deeper dive and want to see our feature comparison broken down further, we've got you covered there too. Take on the next step of your decision-making process with this detailed guide on the differences between thera-LINK and doxy.me.
Still have questions? Skeptical? Check for yourself:
{{cta('992fa8bc-0537-4b6d-a1c2-44ea3dc6f31c')}}     {{cta('e875c413-3eae-4222-b5ab-3ea4c628b368')}}     {{cta('771a0fc5-fa5d-4aef-b965-c22a54a2e288')}}