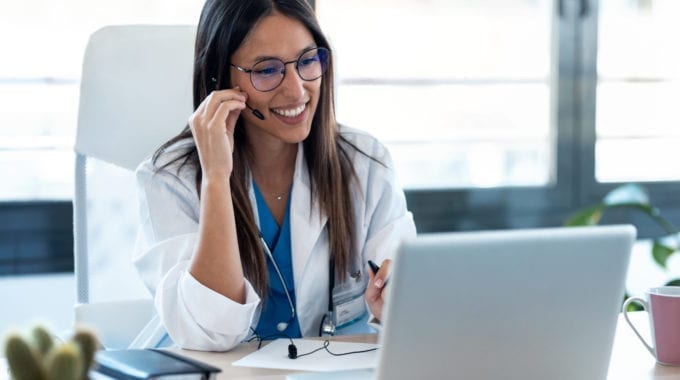 First Steps to Starting a Teletherapy Practice
Are you considering starting a teletherapy practice in your area? Across the industry, there has been a huge push toward the implementation of quality digital solutions. The pandemic prompted the immediate transition to digital tools due to the restrictions on in-person interactions. Providers everywhere quickly adopted teletherapy solutions to try and continue meeting the needs of their clients who depended on them. With the added stress of a global pandemic, the need for mental health services is more apparent than ever before. There is no better time to consider starting a teletherapy practice.
Many providers have viewed this as an opportunity to finally open up their own practice, just maybe not in the way they originally pictured. If you are a provider that is considering starting a teletherapy practice, keep reading.
What is Teletherapy?
Teletherapy is the online delivery of traditional therapy via audio/visual communication. Rather than sit in the same room, the client visits remotely as well as the provider.
Teletherapy has existed in one form or another for several years. It was only recently that the majority of providers were starting to explore its potential. The pandemic forced the hand of many providers to finally give it a try. The good news is that starting a teletherapy practice is not only giving people a safe option for seeking mental health services, clients are falling in love with this format of therapy.
Why Clients Love Teletherapy
Accessibility
Mental health services are historically inaccessible. It has only been in recent history that the stigma surrounding mental health has begun to deteriorate. Before then, there were dozens of barriers that clients had to conquer in order to get the help they needed for their mental health. Even today, there still exist barriers like income and affordability of therapy. While there are still barriers, starting a teletherapy practice removes one huge obstacle, accessibility.
Starting a teletherapy practice removes the need to travel to and from a therapist's office. This removes transportation barriers as well as scheduling barriers. Rather than have to take huge portions of their day to drive or take public transport to their therapist, they can now access the visit remotely. Starting a teletherapy practice is huge for making mental health services more accessible to people all over the country.
Convenience
Starting a teletherapy practice offers increased convince for clients of all types. One of the biggest conveniences is that they no longer need to travel. Now, they can log or call in moments before the visit and get services remotely. This is much more convenient for busy individuals or people who already have a lot on their plate. Having to go out of their way to get help with their mental health can become a deterrent to actually taking part in services. Starting a teletherapy practice offers the convenience clients desire to stay more engaged in their care.
Comfort
Starting a teletherapy practice offers your clients a special kind of comfort that cannot be achieved in an office. The client gets to receive mental health services in the place they are most likely to feel comfortable,
their home. Being in a familiar setting helps a client feel more prepared and ready to open up and participate in therapy. There is less nervousness and anxiety for clients than they might feel sitting in an unfamiliar place.
Starting a Teletherapy Practice in 2021:
Eligibility
Anyone that is thinking about starting a teletherapy practice in 2021 must be licensed. A licensed therapist is eligible to offer online therapy services. The main thing to consider is that you may only offer services in the state in which you are licensed.
State Regulations
Every state has different laws for how a provider is required to conduct business. So if you are starting a teletherapy practice, you need to become an expert on your state's teletherapy requirements. Policies have changed quite a bit since the start of the pandemic, and will probably change several more times before and once it is over.
Start-Up Costs
One of the greatest things about starting a teletherapy practice versus a traditional practice is that it is much cheaper. Opening a traditional practice involves renting a space, decorating that space, creating a safe atmosphere, staffing administration, and more. None of this is required when starting a teletherapy practice. The main costs you are responsible for are the cost of the software you choose to use to run your business.
Technology
The great news is that quality teletherapy solutions already exist. Providers would do their best to find a vendor of software that is experienced and well-versed. The pandemic flooded the market with too many solutions that are not up to par with a quality teletherapy practice. Make sure to do your research before choosing a partner.
Reduce Barriers
Teletherapy enables you to see clients that might live outside of the normal travel radius. The only requirement is that they live within the state in which you are licensed. Starting a teletherapy practice will reduce barriers, enabling you to see clients all over the state rather than just in your travel radius.
Flexibility
It is easier to transition between teletherapy visits than it is traditional visits. This technology offers providers the opportunity to see more clients in one day, adjust their schedule outside of normal operating hours, and more.