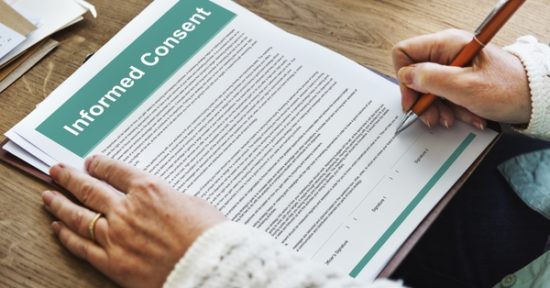 Informed Consent for Telehealth
As clinicians, we understand the necessity of Informed Consent with our clients. Informed consent is essential because it sets boundaries from the outset on the parameters of therapy and allows the client to know what to expect from us as providers, and what we will expect from them as clients. Informed consent helps the process go more smoothly, and it is just as vitally important for telehealth. Many states and their licensing boards are defining the practice of telehealth and have outlined criteria for informed consent. The Texas State Board of Licensure for Marriage and Family Therapy has positioned themselves to be a gold standard for the minimum of what needs to be included in Informed Consent for Telehealth.
Here's the link to the "gold standard" and what we are basing our sample informed consent on: http://texreg.sos.state.tx.us/public/readtac$ext.ViewTAC?tac_view=4&ti=22&pt=35&ch=801
In Summary, below are the basics of what to include in your Telehealth Informed Consent.
Top 13 Key Components of Telehealth Informed Consent
Define the electronic service delivery being used and the potential risks and ethical considerations.

Obtain written and/or electronic evidence documenting the client's consent for the use of technology-assisted services.

Assure the identification of the client, the therapist and the therapist's credentials.

List the services being provided by the therapist.

Inform the client that the therapist determines on an on-going basis whether the condition being assessed and/or treated is appropriate for technology-assisted services.

Provide details on security measures taken with the use of technology-assisted services, as well as potential risks to privacy notwithstanding such measures.

Provide information regarding secure protocols and back up plans in case of technical failure.

List the therapist's credentials and/or training to engage in technology assisted services.

Identify the risks and benefits of engaging in the use of technology.

Detail the emergency procedures to follow when the therapist is not available.

Inform the client about the information collected, and any passive tracking mechanisms used.

List third-party websites or services used by the therapist to facilitate the technology-assisted services.

Provide an explanation of how records are maintained electronically, including, but not limited to, encryption type and record security and the archival storage period for transaction records.
Here at thera-LINK, we have covered the bases for HIPAA and HITECH compliance, and we offer a sample Informed Consent that you can update and brand for your practice. We also partner with The Private Practice Start Up Nation and they have a complete set of lawyer approved forms for practicing telehealth, and we offer a discount deal if purchased through thera-LINK. We strive to give you the tools you need to perform your telehealth sessions feeling confident.
Want to take this checklist with you? Download our Free PDF Telehealth Informed Consent Checklist today for an on-hand reference.
{{cta('906d335f-82b7-477f-9bdd-68f42238f193')}}