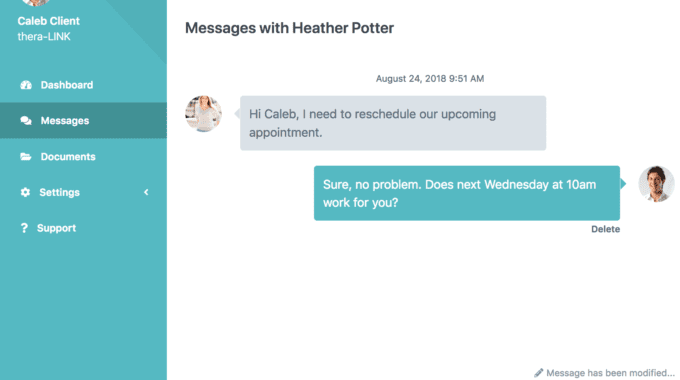 Secure Messaging is here!
Now you can quickly and securely message your clients, colleagues, or staff members in thera-LINK. Secure messaging enables you to communicate with anyone connected to you in thera-LINK instantly or when they are available.
If the person receiving the message is logged in at the time the message is sent, a notification is immediately shown. If they aren't logged in and haven't retrieved the message after 5 minutes, they'll get an email notification to let them know there's a new message waiting on thera-LINK. They can then login and view or respond to the message!
Messages is perfect to communicate about appointment time changes or cancellations or even clinical matters between you and your client. It's also a great way to let a client know you are running a little late for the appointment or discussing payment. We can't wait to hear all of the other ways you come up with to use Messaging in your practice.
Secure messaging is offered on the practiceLINK plan. It is also part of the free trial so give it a go! We think you'll love it.