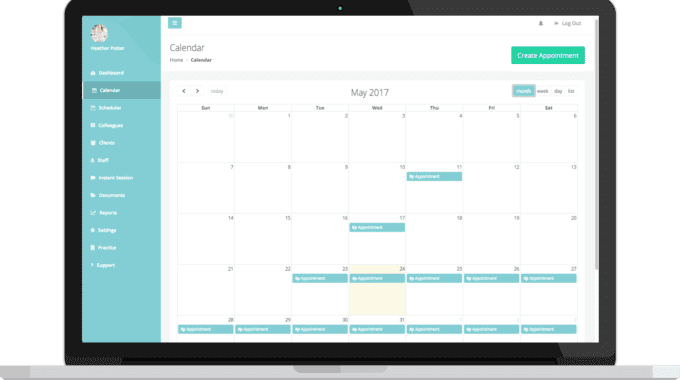 Release of a Completely Redesigned App & Launch of New Directory
Dallas, TX, July 12, 2017– thera-LINK is announcing two major updates regarding their telehealth platform focused on mental and behavioral health providers. First is a complete overhaul of their platform which is intended to allow for further scalability plus new features built into the app. Second is a brand-new Directory website, which showcases providers that are using thera-LINK's online services, so they can be located by potential new clients.
"Both updates provide a significant step towards where we want to take thera-LINK and signal the progression of our business to sync with what we are seeing and hearing from our customers and industry partners. We are very excited with how these two major changes position us to move forward." – Carol Park, CEO, LPC, RD
With the all new redesigned web interface, thera-LINK not only streamlined the look and feel of the platform but also modernized back end infrastructure and frameworks. In addition, the providers on thera-LINK now have more control over their practice and settings such as how far in advance a reminder notification should be sent to their clients, ability to securely share the same document with multiple people at once, and even more beautiful waiting room imagery. Beyond that, larger practices and treatment centers can now see all providers in one side-by-side view to efficiently locate an available timeslot for a client. The possibilities are endless with the new platform and thera-LINK has plenty more in store for this year.
The thera-LINK Directory is a brand new optional feature for all customers on the ultimateLINK or higher plan. The Directory is an all new website that beautifully presents the providers in a one page listing with pertinent information such as cost, insurance carriers accepted, and area of specialty for the provider. Clients seeking providers can search and find an online provider to contact and connect with. The thera-LINK mantra from the very beginning has been "because connection matters" and the Directory is the evolution of where technology has led us in facilitating that connection further. COO Heather Potter says, "Clients seeking a new provider today typically search online first and we want to showcase thera-LINK providers right at the top. We provide the listing, updates, and are handling all of the SEO and ad campaigns on behalf of the provider."
thera-LINK is a HIPAA-secure video platform founded in 2013 focused on the mental health space to allow a provider to meet with their clients online through face to face video connection. In addition to video, thera-LINK provides robust scheduling, credit card payment processing, and the ability to share documents with clients securely at an affordable price point for any size practice!