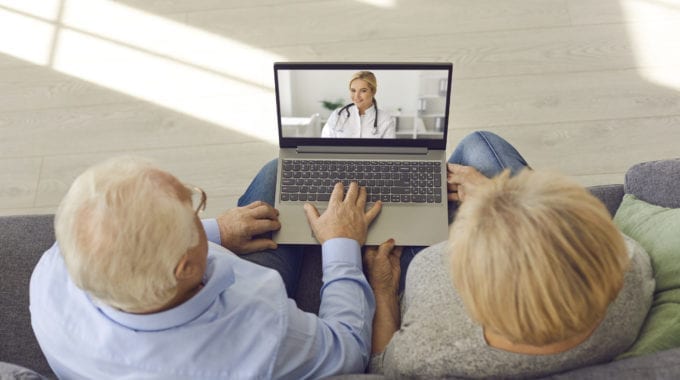 Starting a Teletherapy Practice: How Virtual Care Benefits Seniors
Many providers are considering starting a teletherapy practice for the first time. The pandemic prompted an urgent need for mental health providers to find new ways to keep working with clients. While some found safe ways to keep offering in-person services, a huge number of therapists switched to digital means. For those that work with seniors, this was a tad trickier. Seniors are at high risk of getting dangerously ill from the coronavirus, meaning they need to stay home whenever possible to avoid getting sick. For many seniors, virtual visits had not even been a consideration. The stereotype that seniors avoid technology is true for many. But starting a teletherapy practice can greatly benefit seniors in need of mental health services, even after the pandemic.
Obstacles Seniors Face in Their Care:
Accessibility
Access to mental health services is complicated for seniors for a number of reasons. Depending on the individual, a higher number of barriers might exist like transportation, scheduling issues, distance, and more. Seniors who are unable to drive themselves to and from visits or are already slammed with a high number of doctor's appointments mind have a hard time getting to and from in-person visits with their therapist.
Scheduling Issues
As mentioned in the previous paragraph, seniors often are already shuffling a number of different appointments they need to adhere to for their health. When this is the case, mental health tends to fall to the bottom of the priority list. Not only this, but keeping track of schedules like this can become difficult and messy for seniors with busy lives. They need a more convenient option. Starting a teletherapy practice could be the solution.
Cost Barriers
Cost is another huge barrier for seniors whose only coverage is Medicare. The cost of in-person services is not always covered, causing many seniors to avoid getting the attention they need at all.
How Starting a Teletherapy Practice Can Help Seniors:
Make Care Accessible
By starting a teletherapy practice, therapists can make mental health care more accessible to seniors. Starting a teletherapy practice eliminates the need for transportation to and from visits, it is easier to fit into a busy schedule, and it can actually be a more affordable option for seniors without losing important revenue.
Reduce Burden on Seniors
While in-person services might seem like a more personable and engaging option for seniors, they can quickly transition into a burden. For individuals that depend on rides from family members or who already have to attend a broad number of appointments, it can start to feel like a chore to visit with a therapist. Starting a teletherapy practice removes some of the burdens that seniors feel when it comes to pursuing mental health care.
Decrease Cost
The pandemic prompted CMS to expand its coverage for virtual services through the global emergency. This would allow high-risk seniors to stay home while still accessing services. Teletherapy was one of the situations that suddenly became more affordable. The good news is that many seniors started engaging in telehealth for the very first time, and loved it. CMS is considering extending coverage for virtual services past the pandemic. For those starting a teletherapy practice, doing so might reduce the cost burden for Medicare beneficiaries.
This is not the only way that starting a teletherapy practice reduces the cost barriers to mental healthcare. By removing the need for travel, starting a teletherapy practice can actually reduce the money clients spend commuting to and from appointments.
Offer Flexibility
Clients need flexibility from their therapists in order to remain engaged in services. Starting a teletherapy practice affords you more versatility in your schedule to either visit with more clients in one day or offer them more times to choose from. This flexibility makes it easy for a senior with a busy schedule to keep attending important therapy visits.
Improve Satisfaction
Seniors are using telehealth for the first time and loving it. Where many seniors thought they would always prefer an in-person visit to a digital one, minds are actually changing. This group of clients is finding that providers starting a teletherapy practice offer them convenience, flexibility, accessibility, and affordability in their care.
For providers that are starting a teletherapy practice, the right tools and technology are essential to success.