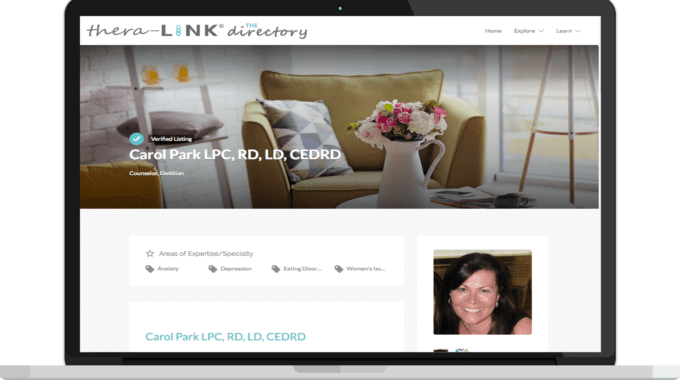 Our Directory has arrived!
Since we created thera-LINK, we've constantly been asked if we offer a directory listing for providers to be discovered online. We always said no as we felt that the timing wasn't quite right to launch while we were focused on our core product and offering the best possible telehealth solution for mental health providers to connect with their clients. As we continued onward and grew our business, we started to realize the power of your online presence as a provider in today's ever-changing world. The world has changed to a technology-first mindset as a source of locating providers. We all pull out our phones/tablets/computers and start searching nearly immediately when we decide to look for a new doctor, seek help for anything, or even try to self-diagnose (you know you do it… we all do!). 😉
As we've really started to hit our stride in 2017 with more and more providers accepting technology as the way of the future, we decided that one of our 2017 initiatives would be to develop our online repository/directory and to make it an optional online listing for providers on the ultimateLINK plan or higher. We've made it available and launched on July 1st with a first round of providers that opted-in. We will continually add new providers to the list over the upcoming weeks! 
We wanted the directory to reflect our branding and color scheme and make it known that these providers use thera-LINK for their online video solution and practice scheduling and that's precisely what we created. The directory is beautiful with large imagery abounding, teal colors throughout, and calming scenery photos. The profiles are completely customized for providers with session pricing, insurance coverage, and even the specific focus or specialty of a provider. This allows clients to look through and find just the right person to work with. 
Another huge benefit of being listed in the Directory is that we handle all of the SEO for you to be found. If you don't know what SEO is, let's just say it's a complicated algorithm that tells search providers where to list you amongst all of the millions of websites in the world. In addition to doing all of the behind the scenes work on SEO, we also are doing paid advertisements through the major search partners on your behalf to drive traffic from potential clients to the site. Finally, we will update your page/listing as requested and as often as requested. 
While we don't view a directory listing as a replacement for your website, we see this another opportunity to grow your online presence and be found out there in the great world wide web. 🙂  We strongly recommend that you put a link on your website to your directory listing (your hosting provider can help you with this!) and we'll be putting a link to your website from your listing. This just helps to link all of your presences together and that's when you'll start to see the power of connecting. 
One final mention is that we'll be starting a new blog-type series called Fireside Chat as part of our Directory. It's going to feature one provider each month with a series of questions that we hope allow you to learn and think of new ideas. It's always good to hear other's experiences! Our first one is already posted… go ahead and check it out: https://directory.thera-link.com/fireside-chat/ 
We are excited to launch this new tool and hope that you see the value it can provide to you as a therapist! Learn more here: https://www.thera-link.com/how-it-works/the-directory/ 
Check it out now by clicking the logo here: