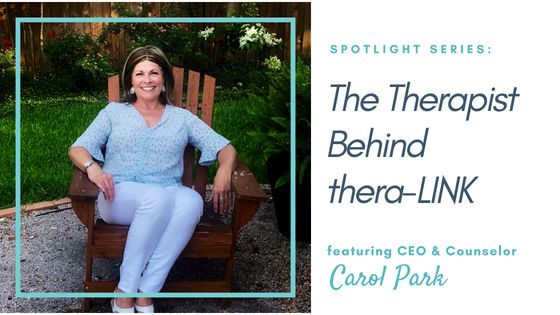 The Therapist Behind thera-LINK
At thera-LINK we pride ourselves on our personable and prioritized approach to connection. In keeping with this value, we are happy to announce our newest spotlight series:
The Therapist Behind thera-LINK, featuring CEO & Counselor, Carol Park.
In this series we sit down with Carol Park to discuss everything from
her many roles (spoiler alert: there's more than will fit on one hand) to role models, the story behind her approach to her private practice and personal use of telehealth, and plenty of tips, tricks, and insights learned from 30+ years of experience.
You can also send in your own burning questions for Carol at hello@thera-LINK.com (subject line: Carol Park Q&A). Check back to see her response in our next week's post!

To kick things off, we're going to set the tone with some fun facts. Think first day of class icebreakers (not as bad when it's not you on the hot seat, am I right?) meets 21 questions. Short and sweet and without further adieu…
*Drumroll please*

Q: Questions asked by yours truly
A: Answers from the one and only, Carol Park
*Links included in teal for the curious

Meyers Briggs Personality Type:
ESFJ
(Take the test and learn your own type here)
How do you decompress:
Working in my backyard, watering the flowers and tending to the plants
Passion outside of work:
My family and my kids. Along with making my backyard beautiful
Favorite App:
Calm– for their sleep stories
Best advice you've ever received:
To own your story and love yourself in the process
Worst advice you've ever received:
Be what people think you should be, should say, should do… and the result being a total loss of self
Favorite advice to give:
Be you and love you for you- i.e. be your authentic self
Advice for other therapists:
Do your own work, we all need to be continually doing our own work
Favorite quote:
Be still and know that I am God
Most impactful book:
The Gifts of Imperfection by Brené Brown, especially struggling with perfectionism, this was kind of a game changer
Which character would you be in a movie, book, etc.:
I'm not sure I want this (laughs) but I've been told, and from the ones I've seen I'm afraid it's probably right… (laughs more) I'd be Monica from Friends
Music genre of choice:
Country
Lyrics or Melody:
Lyrics
Spirit animal:
I've always said an Otter but now it makes me think of the wild one in Zootopia (laughs), I like that image of the otters that hold hands

Any brothers or sisters:
One older brother and one younger sister
How many kids:
Four- a son and three daughters
Favorite word:
Curiosity
Ideal climate:
Sunny and 75 degrees
Favorite flower:
Tulips
If you could be a professional athlete in any sport…
Ice dancing
If you could have any foreign accent…
French because I studied French in high school and have been to France and I like it
If you could be the star in any show, play, or movie…
A movie, The Sound of Music. The only problem is I can't really sing (she says laughing) but if I could and I had that voice, I'd be on the hillside in Switzerland and then bells would chime and they'd start singing that song about Maria (continues to laugh)
Chocolate or gummy:
Chocolate
*Follow-up; Milk chocolate or dark chocolate:
Milk- a good dietitian would say dark, but I don't like it
Coffee or tea:
Tea- Chai tea latte preferably
pro tip: Grande, non-fat and no water- plus a pump of pumpkin in the fall 🙂
What do you do to relax:
Pinterest. I pin lots on my favorite sayings board, lots of Brené Brown. And lots of yardscapes- gardening and beautiful flowers
Born and raised:
Born in Kansas on an Air Force base but pretty much raised in Texas
---
Thanks for spending a moment in your day here with us at thera-LINK and we hope you make it back next time, as we dive a bit deeper in post two of this spotlight series!

Still have questions? 
Connect with us this series and get your questions answered at hello@thera-LINK.com (subject line: Carol Park Q&A)! Or learn more about Carol by visiting her website at https://www.recoveryreconnection.com/ or get connected on LinkedIn by clicking here!