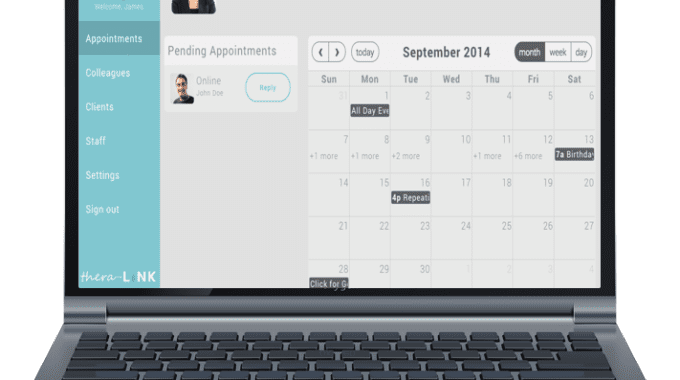 thera-LINK Launches HIPAA Compliant Video Platform for Mental Health Professionals
Following the launch of the platform's beta version on March 01, 2014, thera-LINK's launch of the official version of their HIPAA-compliant video platform is earmarked for late March.
With a solid emphasis on security, the professional-client confidentiality factor is a prime component to allow mental health professionals a platform over which to extend their services by conducting therapy sessions remotely. The feature-rich, interactive platform clearly fills a glaring need, hitting home with its intended target market of mental health professionals. "thera-LINK enables the doctors in our practice to be able to communicate with their clients safely in online video sessions," said Liz P., a Practice Manager for a Psychiatrist in Dallas, TX.  Her practice has previously had to use simple phone calls with some of their remote clients.  "With thera-LINK, we are now able to 'see' the client as if they were right in our office," concluded Liz.
One of the major benefits of thera-LINK's extended functionality of online video chat technology is the responsiveness and ease of use of the entire platform. Along with security, these were key components when the founders set out to bring this concept to fruition.  The entire system, end-to-end, is encrypted to protect the client's privacy.
"We created thera-LINK because we believe there is a need for a cost effective HIPAA compliant video platform for mental health professionals.  Many professionals were using free software that just isn't secure and, after much searching, we found very few options.  thera-LINK is intended to act as an extension of your existing practice and offer a value to professionals when their clients cannot make it to the office.  We believe that the therapeutic relationship can be continued, despite physical distance, using technology," said the thera-LINK founders, clearly stating the need for a product such as this in the marketplace and explaining why they created thera-LINK.
A growing number of therapists and other mental health medical practitioners are taking advantage of the inherent benefits of the HIPAA compliant digital video communication platform developed by thera-LINK. With the platform built from the ground up exclusively for online therapy sessions, thera-LINK is sure to add a new dimension to the way in which practitioners run their practices. As one of the many features, the professional portal comes with an easy-to-use scheduling function to complement a classic in-office feature, which is a waiting room for clients with a choice of imagery, background music and reading material to enhance the overall online experience.
More Info Available at: www.thera-LINK.com