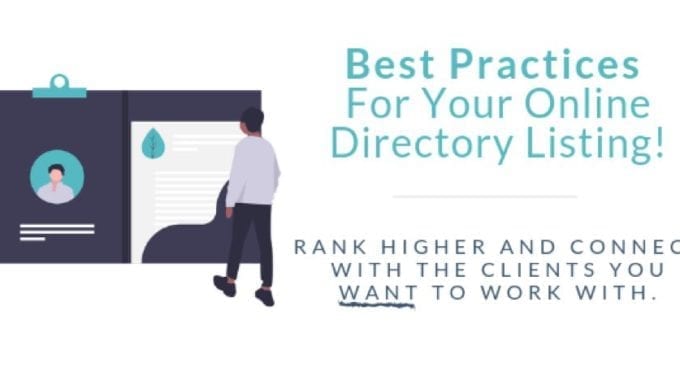 Best Practices for Your Directory Listing
There are so many things you have to keep up with in your day to day life already – from what bills are due, where you need to be at any given point,  to who you need to call next – so we get that you might roll your eyes if we add one more thing to the list, but we believe it's an important one that's worth the time investment! The infamous millennial generation has coined these seemingly never-ending tasks appropriately as "adulting".
Unfortunately, adulting isn't only something you have to do in your personal life as there's also your business life and running a successful private practice. We try to provide as many useful guides and tools for you in order to make this part of your life as easy as possible!
When you have your practice listed out on the internet (whether on the thera-LINK directory or elsewhere!), you'll want to keep your listing fresh and follow these best practices to ensure the right clients can find you!
1. Include Images/Videos

:
Images and video content always produce the best results on the internet – just think of the popularity of social sites like Instagram, Facebook, Twitter, LinkedIn, and Pinterest. How boring would these sites be if they were just words to read? People crave content that's easy to consume and images and videos help to engage people. Your directory listing should always have at least one image of you and your smiling face. It doesn't have to be a professional image – just an image that shows your face so potential clients can put a face with a name. Additionally, adding a video to your listing will take it to the next level. Just record yourself speaking about what therapy is like with you or give a general vibe of how you work, and this would be an amazing addition to any listing. Think of it like your initial consultation, designed to help you and your potential clients discover the right client-therapist match. It will set you apart and will instantly allow those potential clients to know what talking to you will be like.
2. Longer bio: 
For a higher search ranking and to build towards a connection with your potential new clients, you will want to have at least 200 words in your bio or personal statement. Think of this space as your opportunity to really shine – make yourself relatable and connect with clients using the words on the page. Clients don't want to just read how you'll change their life. They want to hear the essence of who you are and feel that they could establish that therapeutic relationship and envision themselves working with you. So, take this opportunity to truly express yourself. For reference, an average #1 site on Google has 2,416 words. We're not suggesting you write a novel, but you definitely need some meat in your posting to have a higher ranking. We recommend anywhere from 200-1000 words about you and your practice. You got this!
3. Keywords and Links

:
The more high-quality content in your bio, the greater opportunity there'll be for generating inbound links, shares, and as a result, increased site ranking with search engines. Thus, we suggest including links to your favorite websites (think self-help type) or books you might recommend to clients you work with, as well as links to your social media pages. By providing resources, you have taken an actionable and accessible step to fulfilling your mission of helping others and this will be recognized by the online community as the initial exchange to begin establishing trust. We're not saying give everything away, you've worked hard to establish your practice and learn your skills so there should be compensation for expertise, but the internet is filled with free resources so by providing a general direction through the clutter, you are providing a value offer and will be remembered by those seeking further personal guidance. In addition, you will most definitely want to add a link from your own website and social media back to your Directory listing. This will immediately make your page relevant as Google will recognize that you have numerous sources linking to your sites – thus improving your SEO (search engine optimization) authority and credibility to improve your ranking.
4. Client Self-Scheduler

:
We highly recommend that you setup your client scheduler in thera-LINK and allow access to anyone. This will create a URL that's unique to you that you can then put on your listing for clients to click and pick a timeslot right then. When a client is searching for a provider in the Directory, they are at the stage of connecting and wanting to get the help they need right then. Putting a link at their fingertips then enables them to schedule directly with you right there and thus removes a barrier and an excuse to connect. If you display your availability and they commit to a time, they're more likely show up for that first appointment than if they had to contact you, wait for you to reply and then go back and forth. Time is precious so make their experience as easy as possible to help ensure they don't lose interest or simply never follow through with getting the help they need.
5. Update Content:
This one is probably the most difficult of all because it's way easier to just set it and forget it, so to speak. You'll want to set yourself a calendar reminder to refresh and update your content on your directory listing site about every 90 days. The first reason is obvious – you don't want to have outdated content out on the web or clients will have a more difficult time connecting with you. Secondly, did you know that Google has something out on the internet called "crawlers" or "robots"? A little creepy, but it's how they collect all of that valuable data to be able to present your page as relevant when someone searches. While there's no exact science to when your page is crawled, per Google, there are algorithms that are constantly seeking new data or new pages that are put on the internet and does move them up in the list. Keeping your content fresh will help your page get scanned more often by the crawlers, thus presenting an opportunity to rank higher!
The thera-LINK Directory is a great way to give your practice an address on the web. Think of your listing as a yellow pages listing
and chance to stand out from all those other listings people see online. Additionally, thera-LINK pays to advertise the Directory as whole in order to help get traffic to the website to help our providers get found. Once a potential client is on the page, they can sort and search to find the provider they want to connect with. Using these best practices will help your listing to shine!
We also select one provider each month to highlight on our blog, which gets a lot of traffic and could potentially be another way to showcase your practice. Providers that we know are working hard to grow their practice, are doing most of these best practices already, and that we have connected with through our Customer Success team or Tech Team are who we naturally gravitate towards when selecting. You could be next!