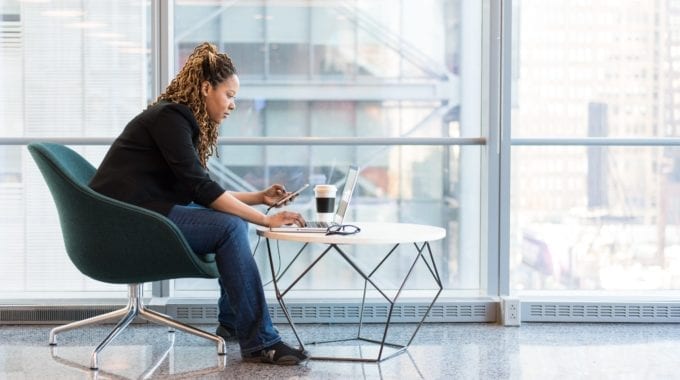 How to Start a Telemental Health Practice
If you started seeing clients remotely during the pandemic, you might have discovered that you enjoy offering teletherapy and want to do more of it. Or if you're just now launching out on your own, you may want to start a telemental health practice. In this post, we'll cover the essentials for your practice, including selecting the right teletherapy platform, setting up your telehealth office space, and how to get the word out about your new practice. We'll wrap up with tips for avoiding some common missteps therapists make when working with clients remotely.
4 Telemental Health Benefits
There are many aspects of teletherapy that can make it attractive for mental health providers and patients. With greater flexibility for both parties and expanded care for patients, there's a lot to love about this model.
1. Enhanced Convenience and Flexibility 
When transportation or time is an issue, teletherapy clients can attend appointments from a private conference room at work, in their car, or from home. There are numerous examples of how receiving location-independent care expands access for clients ranging from busy professionals to stay-at-home caregivers. Therapists also benefit from flexible scheduling. Seeing clients in the evening or weekends is a lot easier when you don't have to drive to the office for an appointment.
2. Expanded Access for Clients 
Telehealth allows clients from both rural and underserved areas to receive care that may not be available locally. For those with phobias that make it difficult to leave the house, seeing a therapist remotely offers them an opportunity to access therapy in the only way that feels safe.
3. Fewer No-Shows
Since telehealth isn't location-dependent, a sick child, poor weather, or a last-minute project at work won't necessarily result in a canceled session.
4. Higher Profitability 
Operating a telemental health practice offers numerous cost efficiencies. It doesn't require you to lease a conveniently-located physical space. And if you're working from home, you don't have the cost of utilities or janitorial. Neither do you need to stock a break room and bathroom with necessities.
Setting Up Your Space
Running a successful teletherapy practice starts with setting up your physical space. A good teletherapy office layout makes it easier to form a quality connection with your clients and creates a place you'll genuinely enjoy spending time in.
Room Layout 
Context matters. Especially when you're working with clients at a distance. With an in-person practice, you have the luxury of setting a professional, inviting tone from the front lobby to your private office space. With teletherapy, the only space your client will ever see is what's behind and beside you. Take extra care to recreate what clients would expect to see in a therapist's office. That could be a couch with a piece of art hanging above it or a bookshelf and chair, for example.
Internet Connectivity
The importance of a high speed, stable internet connection can't be overstated since your internet connection is holding your session together. Go with the most reliable internet provider in your area.
Critical Accessories
Two of the most critical pieces of equipment in your setup are a webcam and a headset. A headset blocks out minor background noise and creates a more immediate connection with the client. Buy a headset with good voice quality and snug fit. You'll be wearing it for hours a day so it must be comfortable.
Creature Comforts
Chances are you'll be spending more of your waking moments in your teletherapy office than anywhere else. For this reason, creating an area to relax and decompress off-camera is critical. Splurge on creature comforts like an overstuffed armchair, plush rug, and a coffee or tea station so you can whip up your favorite brew in between sessions.
Explore Best Practices for Telehealth Therapy in 2020 to make your teletherapy experience the best it can be!
Choosing the Best Telemental Health Platform
When it comes to telemental health software, you have several options to choose from. But not all platforms offer the same functionality or are easy to use. Here are the must-have features to look for when buying a telemental health platform.
High-Quality Video
Your video feed allows you and your client to see one another's facial expressions and body language, facilitating communication. Choose a platform with a high-quality video feed that can expand to full screen.
Ease of Use
A good telehealth platform is intuitive and easy to use for both the provider and the client. Be sure to demo any software you're considering purchasing to experience it both from the back end and the client-facing side.
Enhanced Security
HIPAA compliant, end-to-end video encryption is a must. A secure feed ensures your client's privacy and protects you from potential issues with maintaining confidentiality.
Additional Features 
Many telehealth software services offer extra features like client record-keeping, appointment reminders, and more. These additional offerings can make time-consuming administrative tasks simpler and more efficient.
Check out thera-LINK's features that make running a teletherapy practice simple!
Marketing Teletherapy Services
For many therapists, marketing isn't something that comes naturally. You chose to become a therapist rather than a marketer for a reason. But getting the word out about your telemental health practice is important. Here are several ways to attract new clients.
Create a Website
A website will help prospective clients understand your specializations and who you serve. It also allows people to get a sense of what it's like to work with you. You may also want to share information and resources potential clients will find useful.
Create a Google My Business Listing
The Google My Business Listing results show up at the top of the search results for location-specific searches. If a prospective client searches "EMDR Houston" or "therapist Cincinnati," for example, sites with Google My Business Listings that are optimized for those search terms will appear.
Be Active on One or Two Social Media Platforms
A lot of people spend a considerable amount of time on social media platforms. Identify which platform your prospective clients most often use, and regularly share resources and engage on the platform.
Network with Other Therapists
Many therapists have a referral network of other local therapists they can send prospects to if they have a full roster or if someone contacts them that's not a good match. Introduce yourself to your local colleagues and let them know you're open to both giving and receiving client referrals.
Network with Local Health and Wellness Companies
Make a point to be visible in the places your prospective clients spend their time. Local businesses that emphasize health and wellness, such as yoga studios and chiropractors, can be an excellent source of referrals.
Get Listed in Professional Directories
Professional directories like those hosted by Psychology Today and Good Therapy can be a quality source of referrals. Set up a profile and track which ones generate the most leads.
Read Equipment for Telehealth that Every Mental Health Provider Needs to ensure you're set up for success!
Potential Pitfalls to Starting a Telemental Health Practice
Seeing clients remotely presents some unique challenges. Here are the most common issues that arise when running a telemental health practice.
Interstate Licensing Issues
Regulations on seeing clients across state lines vary. Be sure to check the regulations that apply to providing teletherapy services in your state. With laws regarding telehealth changing so quickly and varying by state, the safest bet is to do your research before you begin.
Malpractice Insurance Coverage
Before working with clients remotely, check in with the insurer who underwrites your malpractice coverage to verify that your policy covers seeing clients via telehealth. If it doesn't, switch policies or providers to gain coverage that does.
Poor Fit for Personality and Work Style
Some people thrive on face-to-face interactions. Others find it challenging to stay motivated working from home. The life of a telemental health practitioner isn't for everyone. If you find yourself feeling lonely or disconnected, this method of seeing clients may not be the best fit for your personality or style of working.
Post-COVID-19 Uncertainty
With all of the uncertainty in the world right now, most crystal balls have retired. Since we don't know what a post-COVID-19 world will look like, it's difficult to say how many clients will want to continue working with their therapist remotely once it's safe to resume in-person sessions again. And how long Medicare and private payers will provide blanket reimbursement for telehealth services remains unknown.
Wrapping Up
Now is an exciting time to be starting a telemental health practice. Teletherapy is in the spotlight of public awareness in a way it has never been before. With a plan in place, an effective toolkit, and an easy-to-use telehealth platform, you'll be set up for success.